Floating Contact Form Portlet
Back Visionary Leader in the 2021 Gartner Magic Quadrant
The 2021 Gartner Magic Quadrant for Third-Party Logistics Providers (3PL) recognizes Kuehne+Nagel's visionary outlook and strength of operations.
Kuehne+Nagel is proud to be recognized as a leader in the 2021 Gartner Magic Quadrant for Third-Party Logistics Providers (3PL). Gartner, Inc. is a research and advisory firm that evaluates logistics providers in an annual report. Providers are rated on two criteria: their ability to execute and their completeness of vision.
In 2021, Kuehne+Nagel has ranked higher on both criteria and is considered the most visionary of the logistics providers. Gartner's evaluation is based on their analysis and interviews with customers.
Magic Quadrant for Third-Party Logistics (3PL), Worldwide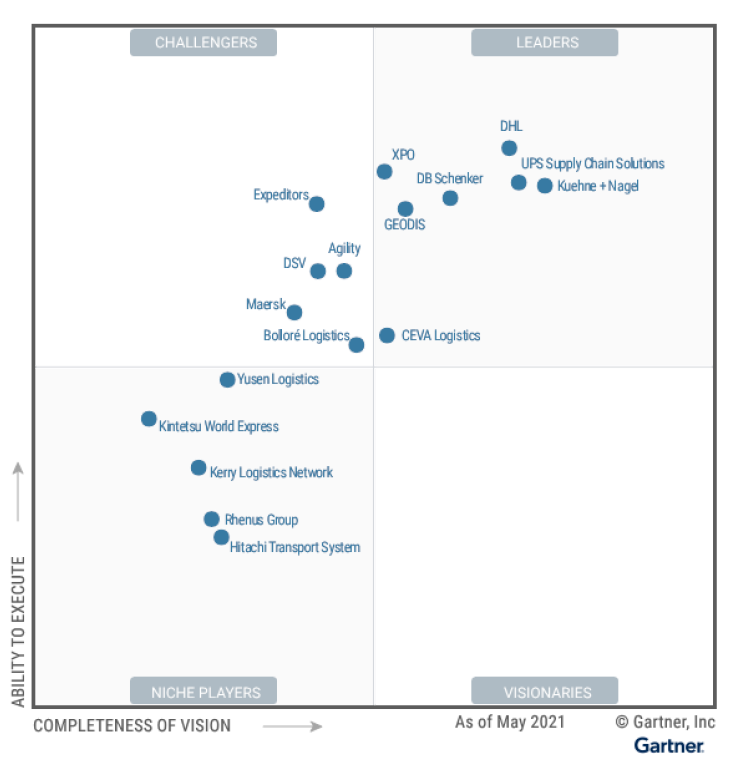 (Source: Gartner / June 2021)
What this means for our customers
We are pleased to be recognized as a visionary company that challenges the status quo. This recognition validates our holistic, collaborative and customized approach to logistics.
We are on a constant mission to support our customers with innovative and sustainable logistics services. Our specialists create solutions that anticipate the challenges of tomorrow and provide tangible advantages to our customers today. Drawing on our forwarding strength and entrepreneurial mindset, we support customers of all sizes to deliver on their promises.
A winning combination
In the 2021 report, Gartner identified our customized solutions for industry verticals as a key differentiator. We are dedicated to using our specialized knowledge and deep industry know-how to better serving our verticals. From Pharma & Healthcare through to High-Tech, we support our customers to build supply chains that are competitive, sustainable and resilient to disruption.
As the world endures a global pandemic, the importance of supply chains has been underlined. At Kuehne+Nagel, we use our market-leading access to capacity to enable the movement of life-saving medicines, PPE and vaccines across the world. As a global 3PL, we understand the responsibility to use our strong carrier relationships to secure capacity for our customers.
Creating sustainable supply chains is a crucial step to addressing climate change. Gartner recognizes Kuehne+Nagel's bold environmental targets, particularly the public commitment to achieve carbon neutrality for our own emissions and those of our suppliers by 2030. This is a core part of our Net Zero Carbon program. Gartner acclaimed the diversity and breadth of our sustainability projects across all modes of transport and services.
Our commitment to our customers
In a fast-moving world, our commitment to our customers is constant. We are pleased to be recognized by Gartner as a logistics leader with the ability to holistically integrate our vision with our operations. This recognition reinforces our mandate of a customer-driven, forward-thinking approach to logistics.
If you're looking for a logistics partner who can bring new ideas to your organization, contact us today.