Floating Contact Form Portlet
L.A. and California office locations. The Los Angeles Area HQ is a full-service branch, strategically located 8 miles away from LAX airport and ports of Los Angeles and Long Beach, and is dedicated to supply chain solutions.
"
Kuehne+Nagel L.A. and California branches offer a full range of logistics services to meet our customers' demands for high service, quality, and efficiency with great expertise and an uncompromising sense of commitment.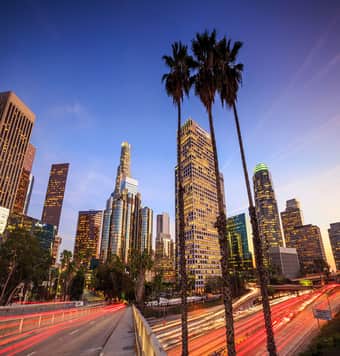 Los Angeles - Area HQ
Personnel and facility hours
• 140+ employees
• Facility is open during business hours with additional coverage, as required by customer needs.
• Pacific Standard Time: (GMT-8)
• 24/7 availability

Location
• 82,000 sq ft cross-dock warehouse
• Full-service branch
• Experienced staff for specialized cargo
• Direct connection to major Kuehne+Nagel gateways
• Deconsolidation Facility
Accreditations:
• TSA certified screening facility
• IATA
• TAPA A Compliant
• CPAT certified
• ISO 9001:2015
• ISO 14001:2015
• ISO 45001:2018
Sea Logistics:
• Ocean freight import & export of FCL and LCL
• Insurance coverage available through NACORA Kuehne + Nagel's in-house broker
• Temperature controlled/perishable goods operations
• Tiered carrier management program for ultimate flexibility
• Effortless shipment tracking in real time
Air Logistics:
• Import & export
• E-booking interfaces
• Cargo IQ certified
• Full charter and consolidation services
• AA - Aviation AOG Desk
• Time guaranteed and price defined Express Services
• Fixed schedules with prime carriers
Road & Rail Logistics:
• Domestic and cross-border road and rail transport across North America
• Time-defined FTL & LTL solutions
• Full door-to-door service solutions
• LTL ecommerce logistics solutions
• Specialized equipment including flatbed trailers, drop-deck trailers, or temperature controlled trucks
• Intermodal transportation: direct rail contracts and extensive drayage network
Customs:
• Licensed customs brokers on staff
• Remote filing location (RFL) approved
• Fully automated U.S. clearance services (ABI)
Additionally:
• myKN shipment visibility, monitoring & reporting
• Bonded facility
• Consolidation / de-consolidation
• Inventory control
• EDI and API data integration
• State of the Art Security System
• Newest operation equipment
---
All California Local Offices Locations
San Francisco
150 West Hill Place
Brisbane, CA 94005

Contact details:
Phone: (415) 656-4100

Opening Hours:
Mo – Fr: 9:00 AM - 6:00 PM
San Diego
2660 Sarnen St. Suite 100
San Diego CA 92154

Contact details:
Phone: (619) 661-6944

Opening Hours:
Mo – Fr: 8:00 AM - 5:00 PM
Anaheim
3454 E Miraloma Ave.
Anaheim CA 92806

Contact details:
Phone: (562) 641-2500

Opening Hours:
Mo – Fr: 8:00 AM - 5:00 PM
Rialto
1364 W. Rialto Suite A
Rialto CA 92376

Contact details:
Phone: (909) 644-4658

Opening Hours:
Mo – Fr: 8:00 AM - 5:00 PM
---
THE GLOBAL LOGISTICS NETWORK

Kuehne+Nagel, one of the world's leading logistics companies, delivers integrated solutions across the supply chain that turn your logistics challenges into real competitive advantages. In more than 100 countries, our 1200 offices and distribution centers are staffed by Kuehne+Nagel logistics experts who speak the local language and understand the local culture. Through common processes and one standard operating platform, we can consistently deliver high-quality services – around the corner and around the world.