Floating Contact Form Portlet
Back Sea-Air Logistics: The sweet spot between sea and air freight
Find the intersection of on-time and on the money. Sea-Air Logistics combines the speed of air cargo with the lower cost of sea freight for a seamless and reliable supply chain experience.​​​​​​​
A flexible shipping strategy is essential to keeping shelves stocked and putting products into the hands of happy consumers. Whether making purchases in-store or online, shoppers dislike delays. With so many options at their fingertips, a disappointed customer can easily turn into a lost sale.
If traditional sea freight leaves you wanting faster transit times, Sea-Air offers more speed at budget-friendly rates. From port congestion to container shortages to waterway blockage, disruptions happen. Having nimble alternatives that meet any shipping challenge is crucial for mitigating supply chain risk.
Your cargo comes first with Sea-Air Logistics
With pre-booked capacity, Sea-Air combines the best features of each, strengthening your speed-to-market advantage. Shipments from ports in Asia typically sail to the hub and are trans-loaded to an aircraft within 48 hours to destinations worldwide.

Our control tower team determines the precise movement of your cargo with every step of the operational process engineered to minimize transit time. Sea-Air shipments move in dedicated sea containers with the highest equipment and space priority. Loaded on the vessel as one of the last containers, they are the first offloaded at the destination port. This saves anywhere from 18–24 hours for discharge.

During sea transport to the hub, your shipment is assigned air freight space—a mix of blocked-space agreements and free market capacity—ensuring your cargo is uplifted without dwell time. This seamless synchronization of the two transport modes significantly improves performance, speed and reliability.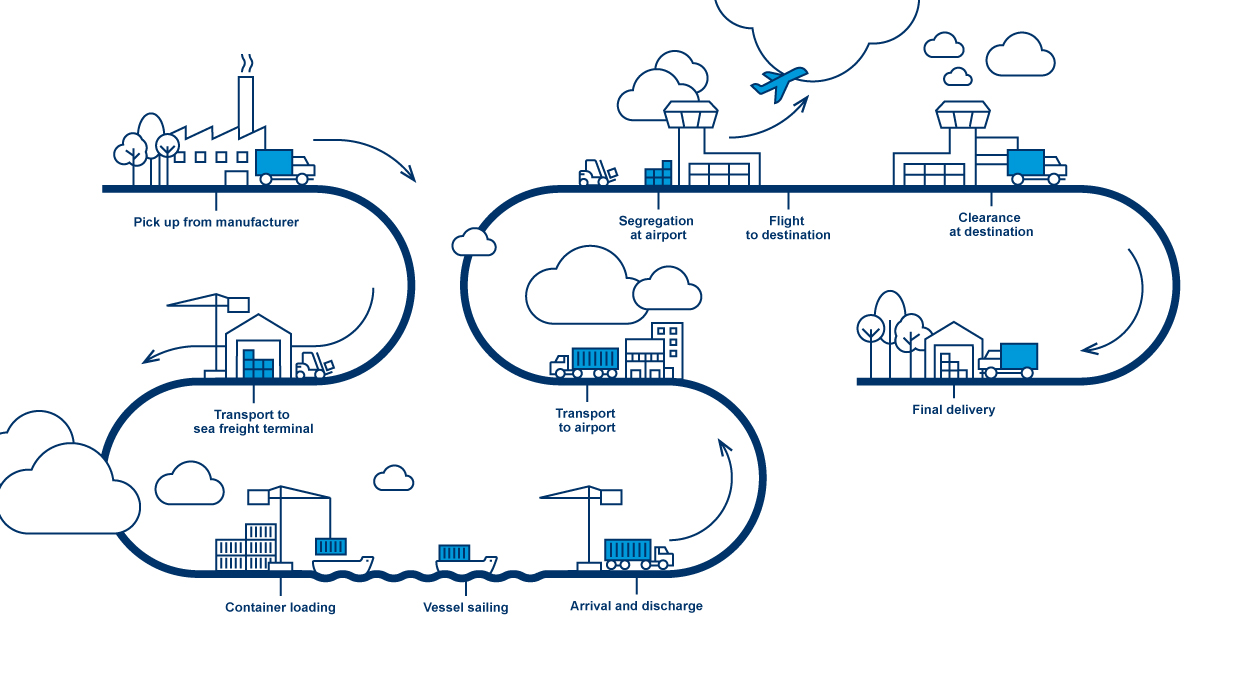 An optimized shipping alternative
Even if you have yet to consider making the transition, it's never too late to start reaping the rewards. Diversify with Sea-Air for planned or unplanned cargo volumes across multiple origin/destination pairings.
​​One side benefit is using the longer transit time as free storage on the water. If you normally ship by air but can wait the added 2-3 weeks, delaying the transit of planned shipments saves on warehouse costs.
​​Operating on ocean carrier express services, the emphasis is on lead time (i.e. last on, first off priority). Terms and conditions with carriers are stringent and require fixed availability at the destination to ensure containers are loaded on the scheduled vessel and not rolled.

With roughly two weeks' notice from origin to port, there is ample time to secure the air freight booking. For major destinations, fixed allocation terms with the airlines commit capacity from transit hubs. Any missed uplifts are quickly managed with alternate flights.

Those strict provisions, courier-style planning and generous uplift capacity lock in your on-time arrival.
"
Maintaining a resilient and flexible supply chain was the key to success over the last 2–3 years. It's how every business will stay competitive in the future.

Leo Qvarnström, ​​​​​​​Director Sea-Air Product & Air Sustainability ​​​​​​​North America